We Install, Upgrade, and
Replace Ceiling Fans!
Air circulation is just as important as controlling relative temperature. While a fan won't actually cool down a room, the moving air helps evaporate water from surfaces, cooling them off. Even in the winter, moving air is necessary to keep heat distributed around a room instead of in a single spot, and ceiling fans are extremely effective for that.
In fact, using a ceiling fan can help to drive down cooling and heating costs every month. Using a ceiling fan allows you to adjust the thermostat by a few degrees, which can save a substantial amount on your utilities every month (since a ceiling fan motor uses less energy than your heating and cooling system).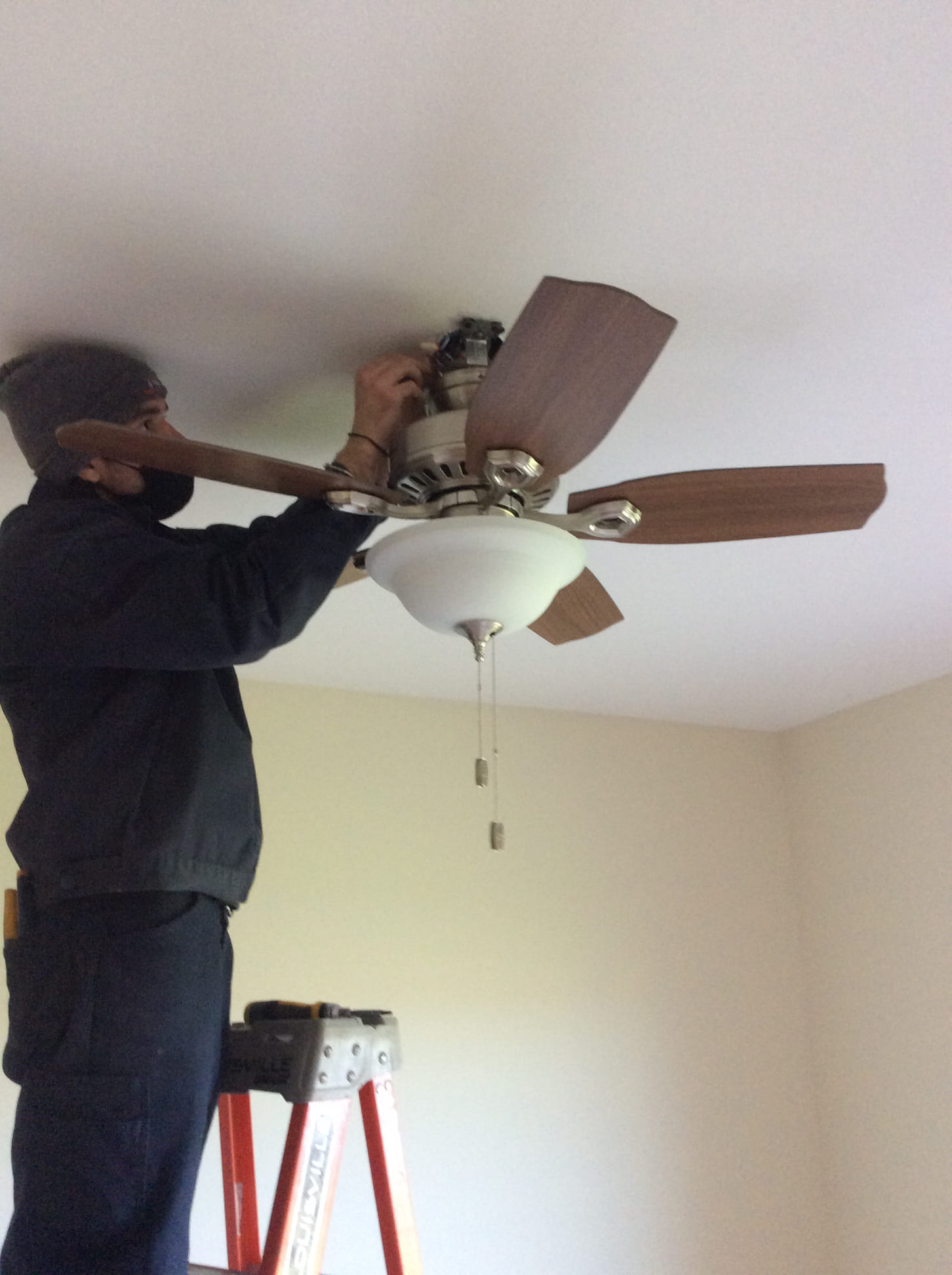 Just like any other electrical appliance in your home, ceiling fans do require special care and attention during installation. Upgrading to a newer system, installing a ceiling fan in a room without a switch, and even adding a light kit to an existing ceiling fan are all complex tasks. Over the Moon hires skilled electricians who are masterful at:
Ceiling Fan Installation


Ceiling Fan Repairs
Light Kit Installation

Remote and Speed Control Installation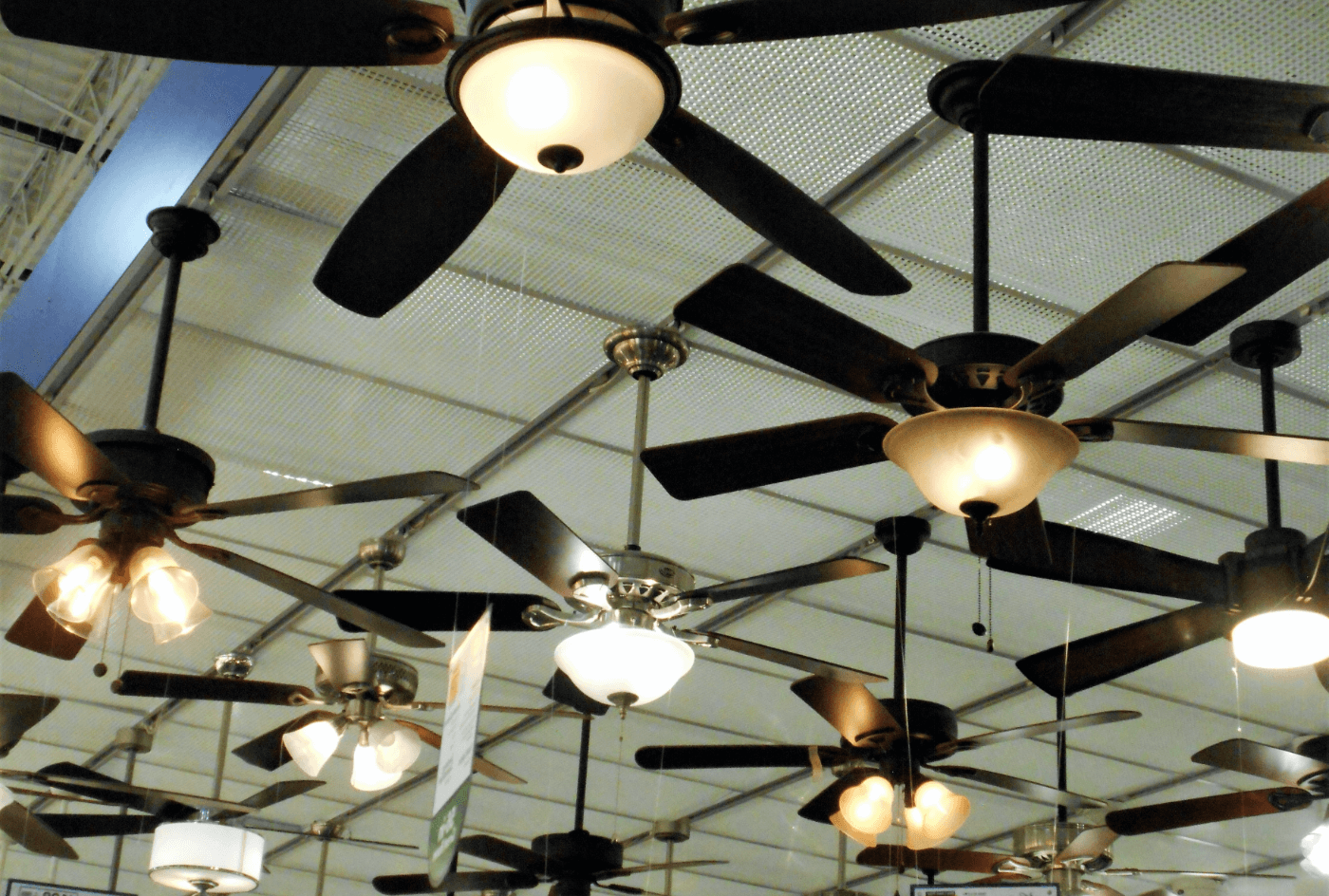 Before you select a new ceiling fan, there are a few things you should be aware of. Installations aren't simply a matter of checking the color of the blades to see if they match the furniture in your room. Everything from the voltage to the number of blades should be considered. While not every customization aspect of a ceiling fan is necessarily important, it is good to know your options so you can get the best fit for your home.
The most obvious options are lights and number of fan blades. The more blades your fan has, the quieter it will be. But with a higher blade count the fan will be heavier (requiring a stronger mount and a higher-power motor).
You may also want to consider purchasing a fan with a DC motor. These fans are slightly more expensive, but they are more energy-efficient and will save on utilities for the life of the ceiling fan. While you're selecting the motor, consider if you need a reversible ceiling fan (for winter use), or would benefit from a wireless remote (useful for higher ceilings).
See what our clients
say about our work
These guys came in as a second opinion for my HVAC system and were so informative. Thank you so much! Now my new condo has a new system that I know will last.
Julie Hang
We are having a fireplace installed, and In-Phase was the ones we trust to install the electrical for it. They are not only professional, but highly skilled and personable as well. They always go above and beyond! Josh was great!
Jeanette Lubitz
Michael from Over the Moon did a great job. He was professional, courteous and went above and beyond. Gave me some good advice that I will use. Over the Moon does a fantastic job!
Alan Krenke
Joe from Over the Moon changed our smoke detectors and replaced an outlet. He also did an annual inspection. Joe was very efficient and knowledgeable. He explained everything he was doing and suggested some changes that could be beneficial. I would highly recommend Joe and Over the Moon!
James Bomberg
We had Over the Moon do a maintenance service on our AC system. Took advantage of their $99.00 service special. The technician Mike was professional, courteous and did a thorough job. We have had Over the Moon into our home for other services and repairs. We are satisfied with their performance, honesty and integrity.
Jim Paro
Over the Moon is outstanding. They did extensive work for us in a number of areas in our home, some quite complicated. Expert service, way above quality of other contractors we have used in the past. Highly recommended. Our service provider Joe is the best!
Jane O.
LET US TAKE YOU OVER THE MOON WITH OUR SERVICE!