Modern homes depend on electricity to work, and when something doesn't work properly, it can be a real pain. Electricity is deeply integral into a well-functioning home, from seeing in the dark to charging phones, to running appliances. When an electrical component there has an issue then this can affect greatly the comfort of the people that are living in the house.
It is more than frustrating to have an electrical problem in the home. They can also pose danger to you and your family in your home. From a simple spark to a fatal electrocution, electrical issues are nothing a homeowner should ever attempt to try to fix on their own. Professional electricians can help homeowners return to normalcy and enjoy a well functioning home once more.
Expert Electrician Services
An expert in the electric field has proper knowledge and is certified to do any kind of electrical job inside your household. No matter the age of your home, these experts know everything that is related to your electricity there. Your electrical system may not be up to the safety code now if it has not been updated in years.
An electrician could upgrade your home with state-of-the-art technology to keep your family safe from past dangerous practices. Newer electrical wiring may be more energy efficient compared to older electrical wiring.
Electricians are proficient in total re-wires and small and 'smart' jobs. They are vastly experienced in installing contemporary smart-home technologies. Smart lights are available in special types that come designed with dimming and color-changing capabilities. If you have your smart lights paired with voice-activated smart-home speaker, you can adjust your home's lights without having to get out of bed or off the couch.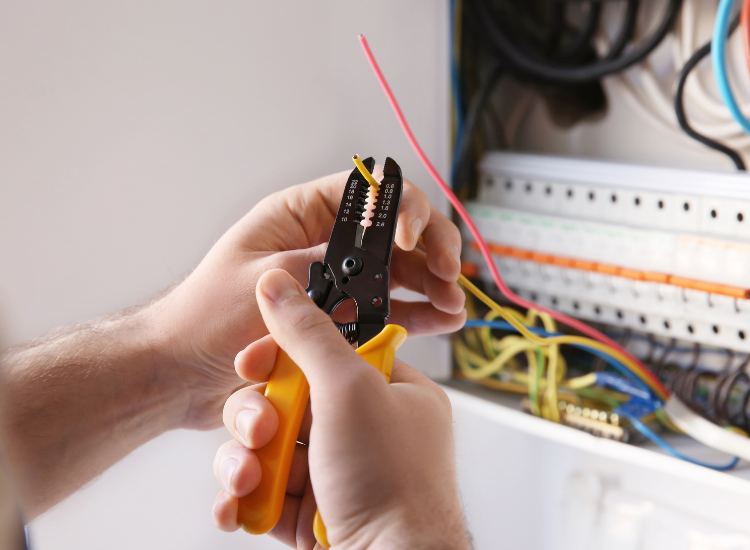 It's easy to make the switch if you already have a smart speaker. Smart gadgets such as doorbells, outlets, thermostats, and fans are very popular nowadays, and many homeowners are currently upgrading to these devices in their homes. You don't have to tear your home apart or do a lot of new construction to integrate smart technology into your home. If you're interested in a smart home device, take the time to talk to your licensed electrician for an estimate.
When there is an electrical problem in a home, the recommended thing to do is to leave it to the hands of an electrician rather than trying to fix it yourself so that it doesn't worsen. Those new to electric work may not take the right security safeguards when attempting to fix something all alone. When it is the local electrician that is called upon to fix the problem, then this is the safer thing to do. Experienced electricians know how to do the work safely, in compliance with local codes, and will do it to your satisfaction.
Professional electrician Services
Your electrician may be able to help with any of the following electrician services:
Security Devices

Solar, Motion Sensors

Switches

Lighting

Ceiling Fans

Outlets
Electrical Panels

Surge Protection

Generators

Smoke and Carbon Monoxide Detectors

Exhaust Fans

Meter Bases
You may have to perform a security check to see what kind of retrofitting might be required if your home is older and has never been checked by a qualified electrician. Older electrical work and gadgets might be considered dangerous and could be putting your family in danger of electrical shock, fires or other risks. Upgrading can help in the future to avoid greater problems and make it easier to sell your home if you plan on moving.
It's wise to have a professional electrician inspect a home you're buying, preferably before closing on the sale, to make sure everything is safe and in working order. Upgrading a home's electrical system is usually a worthwhile investment.
A professional electrician can offer services like outdoor/indoor wiring, new construction, installations, retrofitting, and repairs. Regardless of what sort of electrical work you are searching for, an expert can assess, analyze, fix, or replace pretty much whatever has to do with electrical power in the home. If you want a safe and quick electrical service, you can depend on your local electrician.
Many times electricians arrive on a fully stocked truck prepared to solve your electrical problems on an urgent basis. There's no reason why you or your family should be exposed to the dangers of faulty wiring. You can set up an appointment with your local electrician by giving a call to him. For your family's safety and peace of mind, don't put off having your electrical issues dealt with by an experienced electrician.
See what our clients
say about our work
These guys came in as a second opinion for my HVAC system and were so informative. Thank you so much! Now my new condo has a new system that I know will last.
Julie Hang
We are having a fireplace installed, and In-Phase was the ones we trust to install the electrical for it. They are not only professional, but highly skilled and personable as well. They always go above and beyond! Josh was great!
Jeanette Lubitz
Michael from Over the Moon did a great job. He was professional, courteous and went above and beyond. Gave me some good advice that I will use. Over the Moon does a fantastic job!
Alan Krenke
Joe from Over the Moon changed our smoke detectors and replaced an outlet. He also did an annual inspection. Joe was very efficient and knowledgeable. He explained everything he was doing and suggested some changes that could be beneficial. I would highly recommend Joe and Over the Moon!
James Bomberg
We had Over the Moon do a maintenance service on our AC system. Took advantage of their $99.00 service special. The technician Mike was professional, courteous and did a thorough job. We have had Over the Moon into our home for other services and repairs. We are satisfied with their performance, honesty and integrity.
Jim Paro
Over the Moon is outstanding. They did extensive work for us in a number of areas in our home, some quite complicated. Expert service, way above quality of other contractors we have used in the past. Highly recommended. Our service provider Joe is the best!
Jane O.
LET US TAKE YOU OVER THE MOON WITH OUR SERVICE!