For trustworthy, reliable, and professional HVAC service in Hartland, you can depend on Over the Moon to provide. Our skilled technicians are ready to respond to your service needs at a time that is convenient for you, even if that means scheduling a same-day appointment. If you are looking for quality HVAC work coupled with a 100% satisfaction guarantee, then give us a call today. Learn more about our maintenance, repair, and replacement services below.
Heating Maintenance,
Repair, and Replacement

Heating Maintenance. No matter what type of heating you use in the winter,
a professional tune-up
can make sure it runs as safely and efficiently as possible all winter long. All heaters require annual maintenance for the most satisfying usability. It doesn't matter if you have a standard furnace or run a heat pump, an annual maintenance check is vital for safe operation and the preservation of its ultimate lifespan.
During a tune-up, your technician will inspect parts for optimal functioning, clean and lubricate internal workings of the heater, calibrate the thermostat, and check for repair needs. To keep your heating in top shape, it is recommended that homeowners schedule a tune-up every year after initial installation even if everything seems to be functioning fine.
Heating Repair. Unreliable heat is not only an inconvenience, but it can turn deadly on the coldest of days. Keep your home safe and comfortable with
repair service
from Over the Moon. Whether your furnace isn't turning on, doesn't heat to your satisfaction, is making strange noises, or is at risk of a carbon monoxide leak, don't hesitate to call a professional right away to come to inspect and fix your unit. If you haven't already installed a carbon monoxide detector near your furnace, get one now to provide early detection of this deadly gas.
Heating Replacement. Eventually, your furnace will need to be replaced. If it is needing repairs more and more often, doesn't provide consistent heat, or your energy bills are spiking despite regular maintenance, then you may need a replacement sooner than later. The experts at Over the Moon can let you know when your furnace is nearing the end of its lifespan and show you replacement options to fit your needs. Don't risk being stuck without heat when your furnace fails. Set up a replacement appointment now for guaranteed heat throughout the winter season.
AIR CONDITIONING SERVICES
Heating Maintenance, Repair And Replacement

Cooling Maintenance, Repair And Replacement
Smart Devices And Home Automation Systems Maintenance, Repair, & Replacement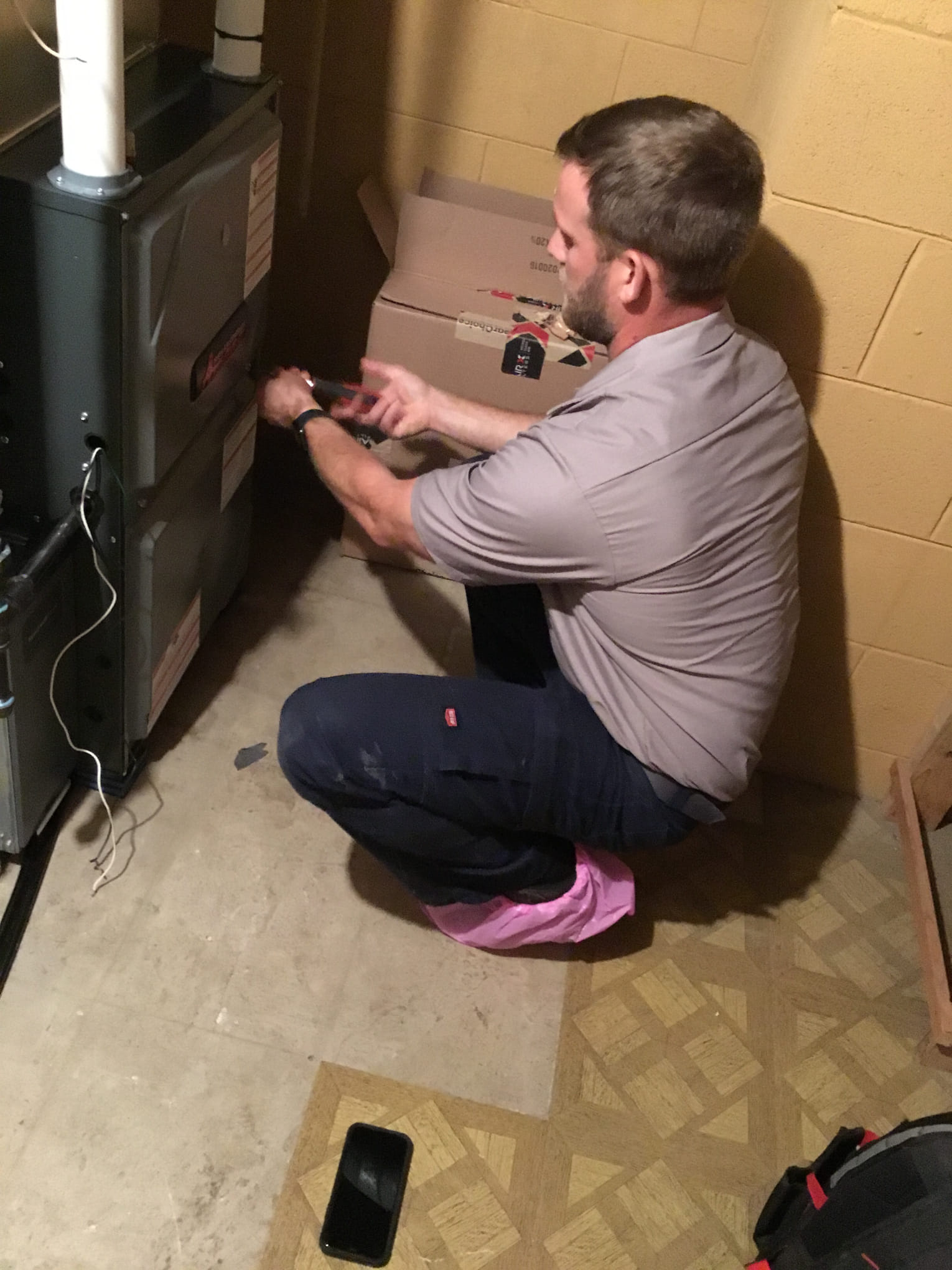 Cooling Maintenance,
Repair, and Replacement

Air Conditioning Maintenance. You may know to switch out the air filter every few months and clear any leaves and other debris from your outdoor unit to keep your air conditioner in working order. However, a professional tune-up is also recommended yearly for optimal performance. A technician will measure the refrigerant levels, check for leaks, clean the coils, and inspect internal parts for repair needs during an air conditioning tune-up. All of these actions help your air conditioner lasts as long as possible and save you money on your cooling costs by running most efficiently.
Air Conditioning Repair. Few things are more frustrating than needing air conditioning on a hot day and discovering your unit has quit working. While there could be several issues causing your malfunctioning air conditioner, our trained professionals know which signs to look for when diagnosing an air conditioner problem. Some issues are simple to reverse if caught soon enough. Prolonged neglect, however, can lead to a premature replacement need. If you suspect something is off with your air conditioner, don't hesitate to give us a call for an accurate diagnosis.
Air Conditioning Replacement. With regular maintenance and upkeep, you can expect your air conditioner to last between 8 and 12 years. When it's nearing the end of its usefulness, you may notice the following warning signs: the home isn't cooling down enough or it's cooling unevenly, you notice loud noises or odd smells coming from the unit, your energy bills are extremely high, or liquid is leaking from the unit. Many times, you are better off getting a
replacement
than opting for an expensive repair that may only last a few more seasons.
Home Automation Accessories

Smart devices and home automation
systems are making it easier than ever to maintain comfortability within our homes. You can experience better climate control with a smart thermostat that works directly with your heating and air. Choose pre-set temperatures depending on the day and time, check your energy use from week to week, and control everything from your smartphone with a smart thermostat installation today.
Ask us
about how we can help set you up with one of these devices.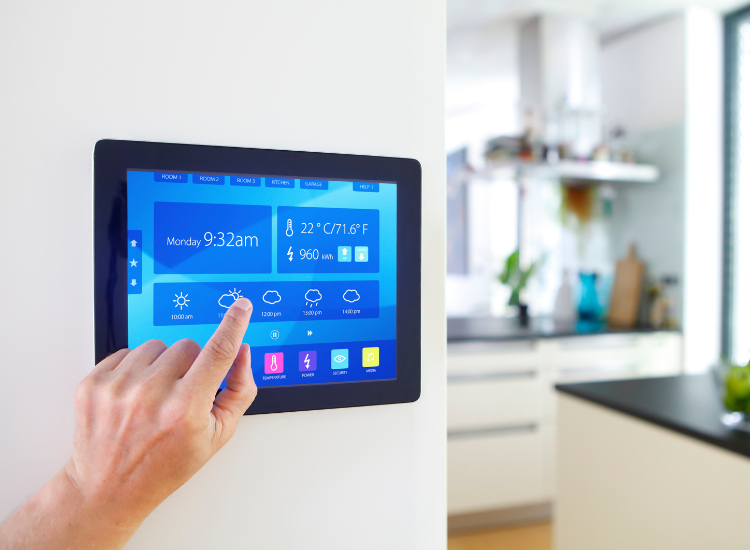 See what our clients
say about our work
These guys came in as a second opinion for my HVAC system and were so informative. Thank you so much! Now my new condo has a new system that I know will last.
Julie Hang
We are having a fireplace installed, and In-Phase was the ones we trust to install the electrical for it. They are not only professional, but highly skilled and personable as well. They always go above and beyond! Josh was great!
Jeanette Lubitz
Michael from Over the Moon did a great job. He was professional, courteous and went above and beyond. Gave me some good advice that I will use. Over the Moon does a fantastic job!
Alan Krenke
Joe from Over the Moon changed our smoke detectors and replaced an outlet. He also did an annual inspection. Joe was very efficient and knowledgeable. He explained everything he was doing and suggested some changes that could be beneficial. I would highly recommend Joe and Over the Moon!
James Bomberg
We had Over the Moon do a maintenance service on our AC system. Took advantage of their $99.00 service special. The technician Mike was professional, courteous and did a thorough job. We have had Over the Moon into our home for other services and repairs. We are satisfied with their performance, honesty and integrity.
Jim Paro
Over the Moon is outstanding. They did extensive work for us in a number of areas in our home, some quite complicated. Expert service, way above quality of other contractors we have used in the past. Highly recommended. Our service provider Joe is the best!
Jane O.
LET US TAKE YOU OVER THE MOON WITH OUR SERVICE!