Are you ready to upgrade your house? Over the Moon has a full guide of how to automate your and where you can get started. A range of new automation technologies can be installed in any home, allowing for automatic control of electronic devices via the Internet. Over the Moon is one of the leading home automation companies in Wisconsin, and fully qualified to digitize your humble abode. Automating your home has become easier and more affordable; if you're looking to update your home, here are a few things to consider.
How to Start Automating Your Home
To implement an automation network, you'll need Wi-Fi, Bluetooth, ZigBee, or other communication protocol set up. Electronic interfaces allow you to manage devices using a voice assistant or app, while many connected devices use sensors to monitor lighting conditions, temperature, or motion to trigger a response.
There are three basic elements to home automation, including:
Monitoring so that you can use an app to check on any device remotely (i.e., a video camera feed).
Control of devices using remote access; for example, panning a security camera.
Automation, which enables devices to interact; for example, a security camera detects motion, then triggers an alarm.
Home Automation Components
To automate your home, you'll need Internet of Things (IoT) devices. Billions of devices are currently connected. If you're getting started, first determine what you can afford; smart devices are available for just about any budget. Match the types of devices with your skill level. For example, operating a smart thermostat often requires learning to use all its features. Finally, read about the options below to determine what might work best for you.
Smart Home Ecosystems/Platforms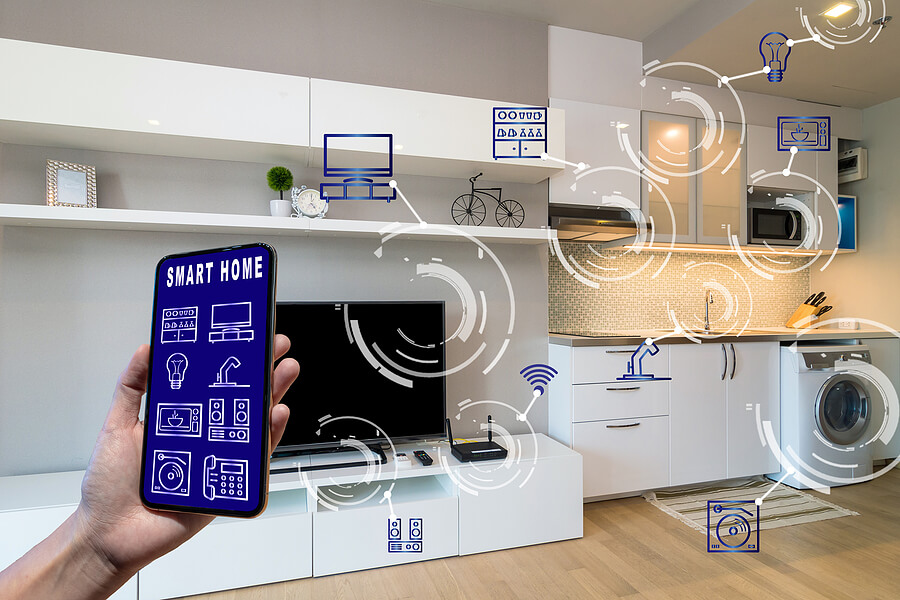 Choose a system that's compatible with most of the devices you plan to use. There are many devices that work with multiple platforms. The leading systems include Amazon Alexa, Apple HomeKit, Google Assistant (known for its video services), IFTTT, Z-Wave, and Zigbee. If connecting a large number of devices, install a smart hub that reduces the demand on your Wi-Fi connection.
Lighting
Dim, brighten, or turn lights on or off using either electric power or RF/wireless control technologies. Smart systems let you program indoor and outdoor lights to go on at certain times. Some have sensors that turn lights on as it gets dark, when you enter the room, or use an appliance or garage door opener. Outdoor lights that trigger automatically with motion, boost home security.
Smart Cameras
Home automation and surveillance have essentially become synonymous with one another. Surveillance cameras, including video doorbells, can be monitored via your home computer or smart phone. Video is digitally recorded so you can see anywhere inside or outside your house, including in time lapse. Smart cameras come in all sizes, in night-vision models, and types such as bullet, dome, and hooded cameras. Other functions may include automatic activation when a door or window opens, a light turns on, or integrated audio to, for example, play the sound of barking dogs when motion is detected.
Environmental Sensors
In addition to motion and light sensors, sensing devices can be installed in doors and windows to complement your security system. Glass break sensors trigger alarms when a window breaks. When someone crosses your property line, perimeter sensors can set off an alert. Flood sensors detect water, such as from a leaking pipe, washer, or water heater; they can alert you with a warning or automatically shut off your water supply.
Smart Comfort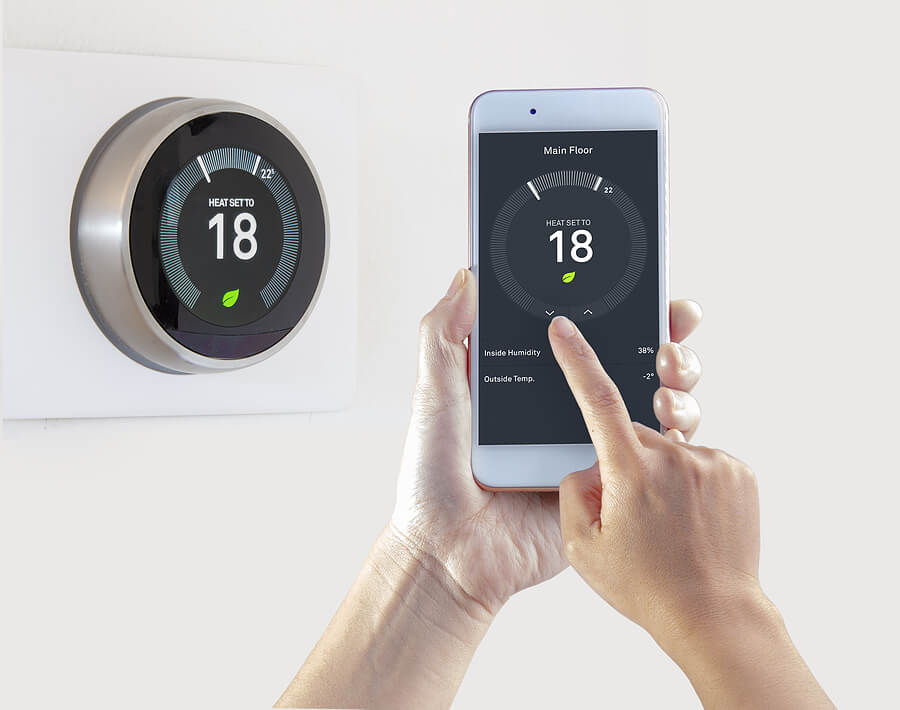 Connect your thermostats to create multi-zone control, manage your heating/cooling system from afar, or turn on the A/C based on occupancy. Automation can include window and drape control or, to automate your cleaning, install a central vacuum system connected via tubing in the walls. Inlets are placed on walls throughout the home; just connect a hose to the nearest one to get started.
 Additional Components
Other devices you can connect in your smart home ecosystem include:
Speakers: Allow for voice commands to trigger an event.
Displays: Have built-in voice assistants, allow for video chatting, and in some cases, include entertainment features.
Medical Alert Systems: Provide monitoring (such as for falls) and Wi-Fi connectivity to medical services.
Audio/Video Components: Whole home distribution systems can play music, control volume, and provide other functions for individual rooms or the entire house.
Other IoT features to look for, besides remote controls and voice assistance, include geofencing that uses your GPS location to turn devices on and off, home and away modes, and scenes that group devices together so you can control all at once. Some devices let you monitor energy, allow shared access, or coincide their performance with the time of day.
Setting Up Your Automation System
After you've installed and connected everything you need:
Set up a routine to let groups of devices function using a single command.
Choose activating events and how the system reacts, creating a cause/effect structure (or if/then scenarios).
Set a schedule, choose voice and app commands, or program the system, how to react or change status based on certain stimuli.
Securing Your Home Automation System
Digital security is rapidly becoming an issue for everyone. Without it, IoT devices can be hacked. A secure router with a unique name, password for your Wi-Fi network, and separate network for your automation devices can increase security. Turn off default settings that can make your devices more vulnerable, and install all available software updates; many are intended to improve digital security. Additional security measures to consider include two-factor authentication and virtual private networks.
Contact Over the Moon for Home Automation Help
Home automation can make your house more convenient, secure, and efficient. If you want to know more about how to automate your home, the licensed technicians at Over the Moon can help. One of the most trusted home automation companies in the region, we can provide installation and repair of smart thermostats, lighting, electrical panels, and data communication, entertainment, and security systems. Contact us at 262-218-2857 to learn more.